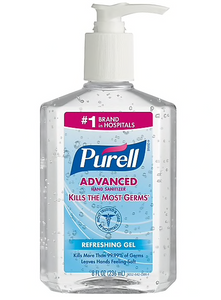 Purell® Advanced Instant Hand Sanitizer, 8 oz.
Product Details
America's #1 instant hand sanitizer delivers advanced antimicrobial germ kill while being very kind to your skin
Purell® Advanced instant waterless hand sanitizer has 70 percent ethyl alcohol formula that is free from fluorinated chemicals. Sanitizer cleans and also moisturizes leaving a soothing skin that kills 99.9 percent harmful germs, sold in 8 oz. pack.
8 oz. pump bottle
PURELL Advanced Instant Hand Sanitizer kills more than 99.99% of most common germs
Formulated to kill bacteria, while remaining mild and soothing on the skin
Purell Advanced kills twice as many germs than other hand sanitizer national brands
Continues to sooth your skin and maintain moisture even after repetitive use
Purell Advanced is gentle on hands, but hard on germs
The patent-pending 70% ethyl alcohol formula is free of fluorinated chemicals, and milder on skin than hand washing

Purell Advanced instant hand sanitizer conveniently and thoroughly kills harmful organisms on your hands. It requires no water, and it is gentler on your skin than traditional hand washing. It does not contain harsh and potentially harmful fluorinated chemicals.

Safe and Effective
Purell Advanced instant hand sanitizer kills over 99.9 percent of the most common germs. It is free of harmful chemicals, and its alcohol-based formula is safe on your skin.

Convenient
You do not need water to use Purell Advanced instant hand sanitizer. It comes in a convenient pump dispenser that is easy to use and ideal for keeping in your desk drawer.

Promotes Health
Keep a supply of Purell Advanced instant hand sanitizer in your bathroom and break room. As well as keeping your premises clean with disinfecting wipes and other disinfectants, use hand sanitizer to help reduce the spread of colds, flu, and other infections in your office.
Specifications
| | |
| --- | --- |
| Brand Name | Purell |
| Volume | 8 oz. |
| Refill | No |
| Capacity in Gallons | 0.06 |
| Capacity lbs | 0.5 |
| Capacity ml | 236.5 |
| Capacity oz | 8 |
| Cleanser Form Factor | Liquid Sanitizers |
| Depth in Inches | 10.25 |
| Height in Inches | 6.81 |
| Pack Qty | 1 |
| Scent | Original |
| True Color | White |
| Width in Inches | 6.31 |
---
We Also Recommend