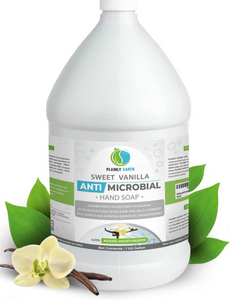 Hand soap-Plainly Earth's Anti Microbial Soap
Description
Plainly Earth's Anti Microbial Soap

Washing your hands is the best line of defense for protecting yourself against bacteria, colds, and other afflictions. We could reduce food borne ailments by 50% if we washed our hands regularly!

Natural Hand Soap Liquid

Our antimicrobial soap is made using only the purest, safest ingredients available. Perfect for frequent use. This liquid hand soaps gentle, yet highly-effective formula is free of Parabens, Petroleum, Gluten and other harsh ingredients, for a non irritating hand soap. Your hands will feel soft and smooth even after many uses with this moisturizing hand soap's added lotions. Even better? Plainly Earth antibacterial hand soap contains a clean, fresh vanilla scent, so your hands can stay protected and smell amazing!

AntiMicrobial Liquid Soap VS Just Anti Bacterial Hand Soaps?

Why choose antimicrobial soap? Our hand soap liquid:
Reduces exchange of microbes
antibacterial hand soap
Is both antimicrobial AND antibacterial hand soap liquid
Convenient to use
Never gets mushy
Tends to create a rich lather
Contains lower pH level and gentler for sensitive skin
Whereas regular antibacterial hand soap:
Bacteria could be passed onto the next user
Slippery
Can get slimy or mushy
Can produce scum
Uses a higher pH level that can dry out the skin
A Liquid Soap Refill Free From
Parabens
Gluten
Sulfates
Petroleum
Palm Oils
GMO Oils
MADE IN THE USA
Plainly Earth's antimicrobial hand soap refills is a 100% Vegan and cruelty free soap made with premium, all-natural ingredients that are both effective and safe to use for most. This antibacterial soap refill is perfect for those with sensitive, dry skin.
---
We Also Recommend