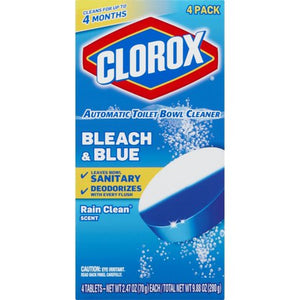 Clorox Automatic Toilet Bowl Cleaner, Bleach & Blue, Rain Clean Scent, 2.47 Ounces, 1 Pack, 12/Ct
Description
One automatic toilet bowl cleaner tablet, 2.47 ounces, 1 pack
Rain Clean scent
Long lasting clean for up to 4 months
Continuously cleans, deodorizes and sanitizes with each flush
Easy to use
Does not harm septic tank
Clean toilet bowl thoroughly, including under the rim. Cut open pouch. Do not touch tablet directly. Flush toilet. When water level in tank is low, drop tablet in tank near side wall away from water valve opening. When tablet is dissolved, simply add a new Clorox Automatic Toilet Bowl Cleaner Bleach & Blue tablet to help keep your bowl fresh. Tablet should be used in toilets that are flushed daily. Otherwise, water color may vary. Each tablet's lifetime may vary.
1, 3-dichloro-5, 5-dimethylhydantoin, 1, 3-dichloro-5-ethyl-5-methylhydantoin, anionic and nonionic surfactants, and silicate. Contains no phosphorus.
Keep away from children and pets. Contact with tablet causes eye and skin damage. Harmful if swallowed. Avoid direct contact with tablet. Do not use ammonia in toilet bowl, and do not add ammonia or other household chemicals to toilet tank, as hazardous gases may result. If tablet needs to be removed before completely dissolved, wear rubber gloves while removing from tank. Place in plastic bag. Avoid dripping.
---
We Also Recommend