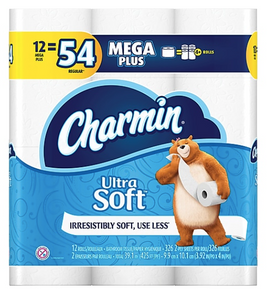 Charmin Ultra Soft 2-Ply Toilet Paper, White, 326 Sheets/Roll, 48 Mega Plus Rolls/Carton **Backordered until Thursday April 15th**
PRODUCT
DETAILS
This Charmin Ultra Soft Toilet Paper is gentle and soft on the skin and provides great value for money. The paper rolls are clog-free and septic-safe, ensuring your toilet drain remains free from all kinds of mess on use. They are responsibly procured off trees to maintain ecological balance.
Gentle-on-skin 2-ply toilet paper ensures consistent softness

1 Charmin Mega Plus Roll equals 4+ Charmin Regular Rolls (based on number of sheets in the latter)

48 rolls/carton with 326 sheets/roll

Irresistibly soft toilet paper

Softer way to get clean and use less vs. the leading bargain brand

Clog-safe and septic-safe
The Charmin Ultra Soft Toilet Paper Rolls are 2X more absorbent and efficient than most other toilet rolls in the market. Each pack contains 48 rolls of Charmin Ultra Soft Toilet Paper. These long-lasting rolls come with 326 sheets and are inspired by washcloths-like design for more cleaning efficiency and strength. The paper is clog-safe, and so it won't choke your drain. One mega roll is equivalent to four regular rolls, ensuring you get more on every use.
---
We Also Recommend