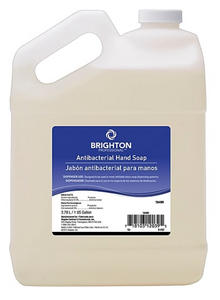 Brighton Professional Antibacterial Hand Soap, 1 Gallon
About this product
Brighton Professional antibacterial soap contains lotion to enhance hand softness and chloroxylenol (PCMX), a broad-spectrum antimicrobial agent that kills germs. A one-gallon refill jug works with most refillable soap dispensing systems, which gives you the opportunity to order one soap for several dispensers at your facility.
Antimicrobial lotion soap for hands and general lavatory use

One gallon jug

Unscented

Kills germs and moisturizes hands thanks to lotion formula with chloroxylenol (PCMX)

Brighton Professional is the rebranding of janitorial and cleaning products


Versatility
The 1-gallon jug works in almost any soap dispenser system. Just open the jug, pour the soap you need into the dispenser, and return it to the storage room for later use. The large size of the refill bottle helps optimize your inventory control and manage your stockroom more efficiently.

Antimicrobial Action
At 0.3 percent chloroxylenol (PCMX), this antimicrobial and antibacterial agent kills germs that cause illness. This comes in handy during cold and flu season when sickness can keep employees at home for a week or more, which saves on productivity during a busy holiday season.